Online Fortune Teller ★ Online Psychic Reading
"Book a webcam psychic readings session with Evina, in the convenience of your own home, anywhere in the world!"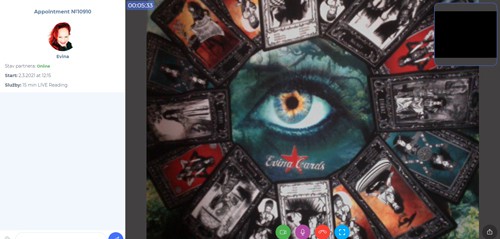 Evina Schmidova
Internationally recognised author of oracle cards and fortune-teller.
"If you have 20 minutes, we will find a novel way for your happy and successful life."
How can I help you?
If you want to know the answers to your questions, then book a free date in the calendar.
The intuitive psychic readings are possible online via my website. You need not install anything. It's simple. After payment, you will receive a URL address in the email to which the online transmission will begin at the hour you ordered. We also have a backup solution. In case of connection failure, we can use a replacement system. Just open the Spare Webcam and enter the password.
5 min FREE / 15 min – €14.99 / 30 min – €29.99
Before paying for the order, we recommend testing the technical equipment – especially a good internet connection, a functional microphone and a camera. Order a FREE date from the calendar and we will test it together.
How am I different from other fortune-tellers?
I can interpret destiny in different ways. I prefer to use my own cards, which I painted and created for three years. I see about each specific symbol from the 101 cards. I know what the omniscient universe sent me for its message and mission. They are works of art, but they have much more hidden in their symbolism. These are popular cards worldwide. Can speak not only to me but also to you. I have an enormous advantage. ‌Who else can better interpret the meaning of symbolism than the author of the cards?
What do you get?
An interpretation of the cards will show you new paths that you do not see yet. I don't know the secrets of mysticism and magic, even though I've read many books. The talent I have received and have been evolving all my life is the ability to intuition. Or as our wise grandmothers called "premonition and foreboding."
How it will help you?
Reading oracle cards can be called, for example, as an inkling. With a fortune-teller, you can find the right way. For example, to avoid what may be unfavourable for you in life. Based on interpretation of the cards, influence your own destiny to your advantage.
Why intuitive reading?
Intuition permeate me throughout my life. My clients include CEOs, artists, athletes as well as single mothers. I like people, and I try to help regardless of social status.
What you won't learn from reading?
If you have questions about how much you will win in the lottery, when you will die or what disease you have, please do not call. Neither witch nor shaman ever shows such information. They are moral rules thousands of years older than the current codes, which observed and honoured to this day.