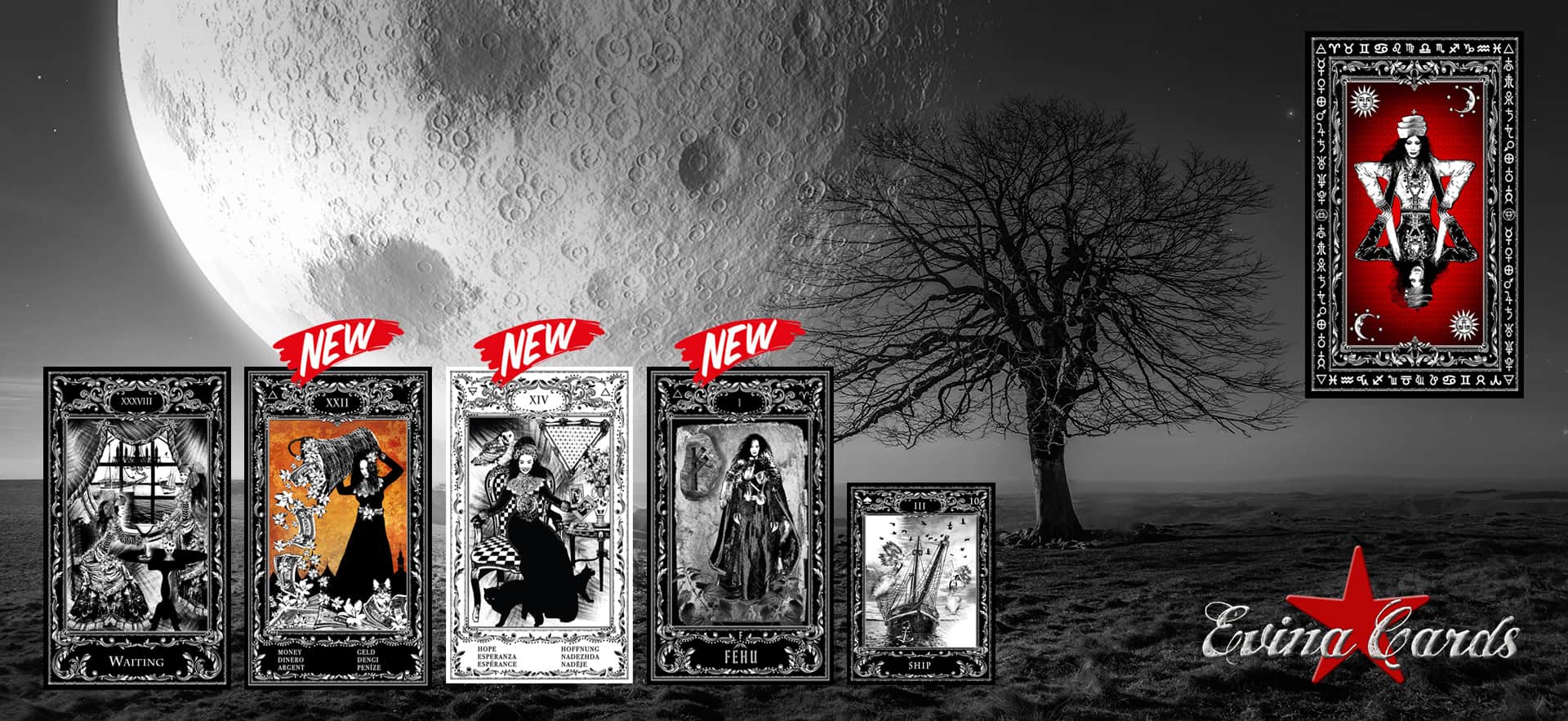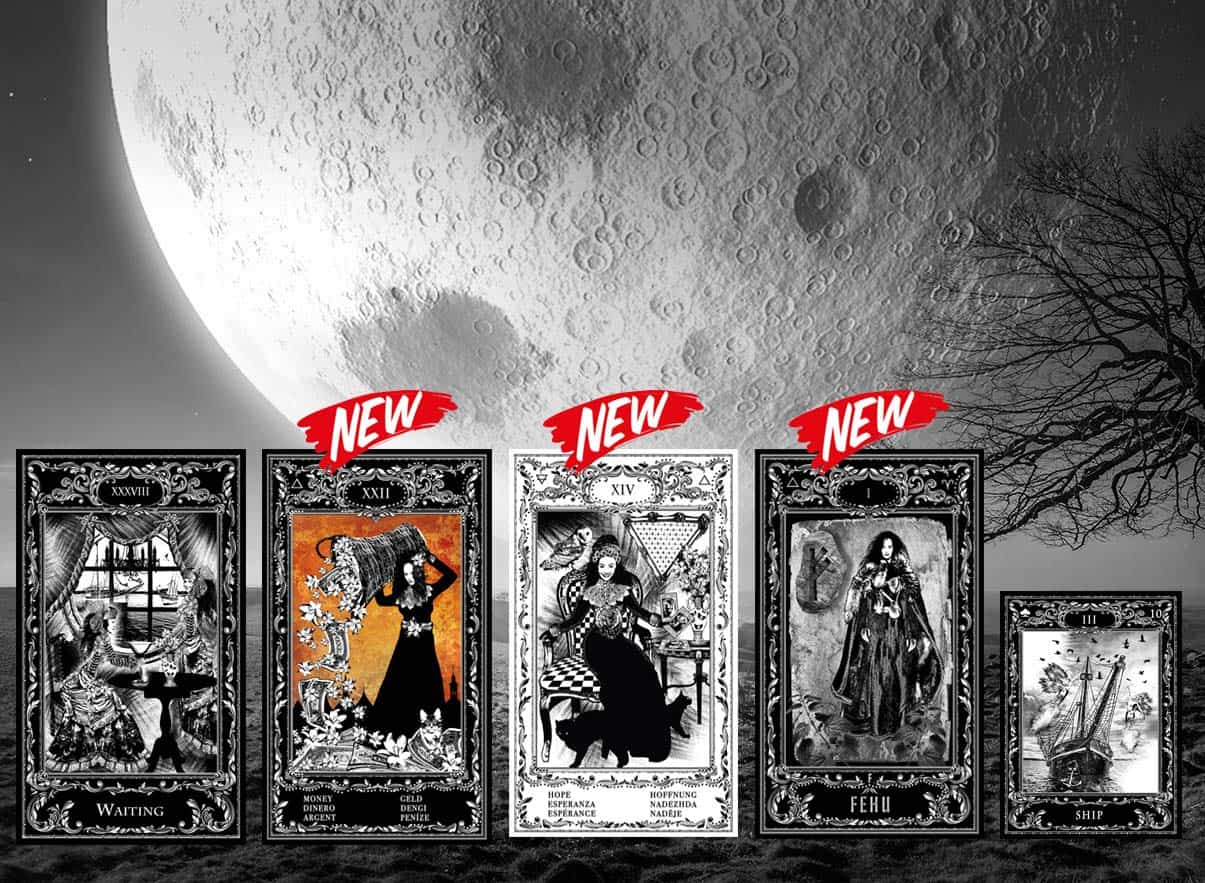 Oracle Decks Cards
Evina Schmidova is author of intuitive oracle decks, painter, ceramic sculptor and photographer. She works in mystical Prague, Oslo, London and travels the world. She will publish a seventh oracle decks in fall 2022.

All the cards you love on your phone
Can't access your card oracle decks on the go?
Deckible let's you flip through your decks and interact with cards from your phone or tablet. IOS or Android.
Instant download. Offline Usage. Device Syncing.
Deckible works offline, and that when you download a deck you are downloading it so you can use the deck later when you don't have internet access. You can also use Deckible on multiple devices. Say your phone and your tablet.
Actually Deckible truly builds upon card decks, as a digital experience.
Cards are tactile, you can zoom in and out, move them around.
Deckible has the potential to disrupt traditional decks.
Deckible also helps you journal your own notes and thoughts alongside the cards.
The Mystery of Life "The Story of the Soul"
Intuitive Oracle Decks
Magic Lenormand Cards
220 YEARS ANNIVERSARY * 1779 - Johann Kaspar Hechtel - Nuremberg * 2019 - Evina Schmidova
Goddess Freya Rune Cards
English, Old Futhark
Bohemian Gipsy Oracle Cards II.
English, German, French, Spanish, Russian, Czech / English, Deutsche, Français, Español, Russkiy, Česky
Bohemian Gipsy Oracle Cards I.
English, German, French, Spanish, Russian, Czech / English, Deutsche, Français, Español, Russkiy, Česky
To make playing cards, paper was needed, among other things. The first paper was made in China in 105 A.D. The Chinese understood its importance, and so kept its manufacture a closely guarded secret. In 751, at the battle of Samarkand, the Arabs took prisoner several Chinese master papermakers, who in time taught them to make it. During the ninth to eleventh centuries, the Arabs brought papermaking to Italy via Sicily.
It is assumed that playing cards originated in China, and subsequently spread along trading routes to India and Persia. As early as 969 A.D., Emperor Muzong of the Liao dynasty is said to have played domino cards with his wives. But these cards looked completely different. They were long, like a domino. The Chinese dictionary Zhengzitong states that playing cards were invented in China in the year 1120, while another Chinese historical source speaks of the year 1294.
Cards in Europe
What is certain is that they did not arrive in Europe directly from China. Card games were evidently brought to Europe by the Arabs during the second half of the fourteenth century via Italy and Spain. These were probably Mamluk playing cards, popular in Egypt, which was ruled by the Mamluks.
The Arabs had transformed Chinese playing cards to suit their needs, and Europeans then adapted the Arabic cards to suit theirs.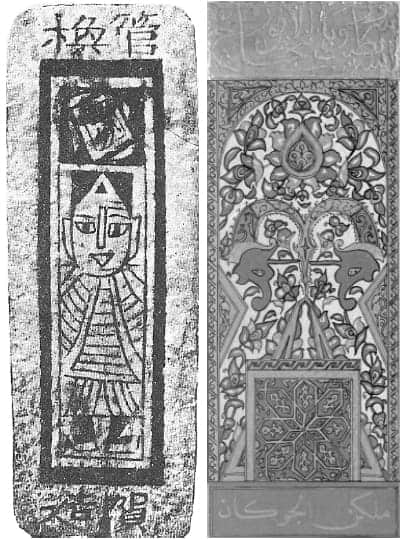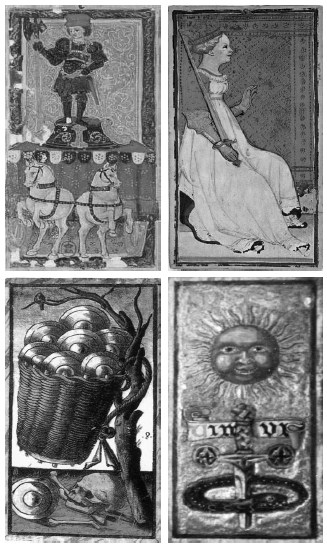 FORTUNE TELLING PLAYING CARDS
Published in years - 1690, 1710, 1770, 1775, 1773, 1796