Oracle Cards for Beginners
The Mystery of Life
Intuitive Oracle Cards
"The Story of the Soul"
London & Prague
Introduction
Why Intuitive Oracle Cards?
Why oracle cards for beginners? There are many ways to interpret all Tarot and fortune-telling cards. Research indicates that there are at least as many systems of interpretation as there are fortune tellers.
Our main objective was to create entirely new fortune-telling cards that would not restrict anyone with any descriptions of the meaning of individual cards or how they should be read.
We undertook extensive comparative studies, and pored over various Hermetic documents.
By exploring the differences between individual decks of cards during the course of their historical evolution, we obtained much valuable information that correlated significantly with wisdom preserved in old books and documents.
Oracle cards have been used from a long time to connect with spirits. Beginners find it easy to read the oracle cards as they are simpler than the tarot card. We offer the best oracle cards for beginners. People usually do not find the oracle cards on every store in the marketplace. We solve the problem for you. Our oracle cards in UK are very easy to buy. All you need to do is visit our website, place your order and we will deliver the cards at your doorstep. Even if you are looking to experiment with the oracle cards trying your luck for the first time. Do not shy away. Whether you are looking to play the oracle cards with your friends or alone, just buy the oracle cards online in UK from our website. We ensure the quality of the oracle cards to be superb.
It took me three years
Then I set to work, creating one card after another. It took me three years.
I tried to imbue each individual card with a unique atmosphere and harmony, with energy and an information field that would immediately awake one's own intuition.
I used several approaches during card creation: deliberation on a mystical and philosophical level, based on Hermetic documents I had studied; my own creativity when drawing images and symbols, while attempting to transfer archetypal values, cosmic principles, and natural ideals to the cards; and last but not least, the power of the subconscious and the imagination.
All my efforts were focused on a single goal: to create a new, original deck of cards that would make interpretive card reading more simple and easier.
Motto:
Our evolution occurred under the subtle influence of nature. Our senses operate like fine-tuned receivers, thanks to which we can quite intuitively understand nature and the universe around us. These abilities are natural magic.
Mystery of Life Oracle Cards
Intuitive Oracle Cards for Beginners - The Story of the Soul - Evina Cards ™
Do you want to read the oracle cards for yourself?
"The Mystery of Life Oracle Cards" are an easy way to read the oracle cards for beginners and how to use intuition to give readings.
We have created the unique intuitive system of divination.
Reading is simple and fast. Awaken your divine intuition.
Reading with three cards for yourself is a way to get a quick reading, easiest and fastest, on a particular question.
Magic Lenormand Cards
220 YEARS ANNIVERSARY / 1779 - Johann Kaspar Hechtel - Nuremberg / 2019 - Evina Schmidova - London & Prague
Oracle Cards for Beginners
To make playing cards, paper was needed, among other things. The first paper was made in China in 105 A.D. The Chinese understood its importance, and so kept its manufacture a closely guarded secret. In 751, at the battle of Samarkand, the Arabs took prisoner several Chinese master papermakers, who in time taught them to make it. During the ninth to eleventh centuries, the Arabs brought papermaking to Italy via Sicily.
It is assumed that playing cards originated in China, and subsequently spread along trading routes to India and Persia. As early as 969 A.D., Emperor Muzong of the Liao dynasty is said to have played domino cards with his wives. But these cards looked completely different. They were long, like a domino. The Chinese dictionary Zhengzitong states that playing cards were invented in China in the year 1120, while another Chinese historical source speaks of the year 1294.
Cards in Europe
What is certain is that they did not arrive in Europe directly from China. Card games were evidently brought to Europe by the Arabs during the second half of the fourteenth century via Italy and Spain. These were probably Mamluk playing cards, popular in Egypt, which was ruled by the Mamluks.
The Arabs had transformed Chinese playing cards to suit their needs, and Europeans then adapted the Arabic cards to suit theirs.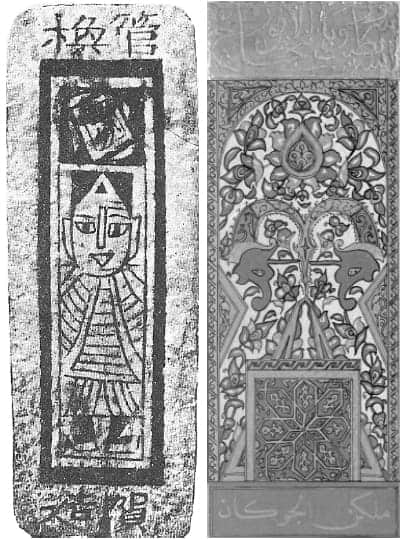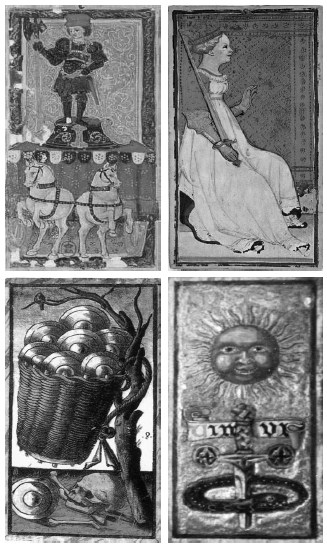 FORTUNE TELLING PLAYING CARDS
Published in years - 1690, 1710, 1770, 1775, 1773, 1796